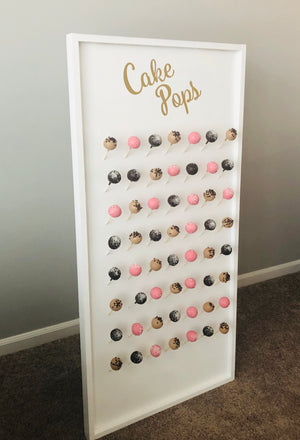 Cake Pop Wall
DIMENSIONS, MATERIALS and OUR PROCESS:
- All parts are made by us by hand.
- The board is made from Particle Board (Commercial Grade)
- The board is 25" x 49"
- Each hole is drilled at a 45 degree angle to allow for Cake Pops to stand up
- The board is finished with 100% Acrylic Paint with low odor & Zero VOC to allow for safe cleaning and repeat use.
- This does come with an optional stand.
**Starbucks Cake Pops Displayed in Picture for Reference**
----------
This versatile Cake Pop Wall is perfect for any party, wedding, baby shower, bridal shower, brunch, graduation parties, birthday parties, corporate events, meetings, office parties, tradeshows and more! We've had customers use them as a Cake Pop Stand for Birthday parties, dessert table display for networking events, Donut Display for bakeries, or even as a Cake Pop tree for a Christmas party.
This wall gives you the opportunity to display Cake Pops in a fun and creative way. 
This Cake Pop Wall can fit 56 Cake Pops.
Getting Married? Purchase this as Cake Pop wall. We can ship directly to the venue or to a residential address.
Boards are made to order and will arrive fully assembled. If you have any questions on if your item would arrive in time, shoot us a note and we're happy to discuss options.
Colors and texts are for customization, so please contact us to discuss what you're looking for!
*All Boards are available in large and small sizes. Contact us if you do not see what you're looking for in our store and we can help you out!*
----------
CUSTOMIZATION:
If you want to add a text then we will make sure you approve of the font before we process.
If you want to add a custom logo then you will have to provide a .PNG or .AI file.
If you're Interested in a different size or color, send us a message to discuss!
----------
SHIPPING:
We use a professional corrugate manufacture to make sure all of our desert bar ideas are tightly secured and ready for shipping. Each product is ship tested through 3 different ship points across the United States to assure quality and damage control before being passed by a Quality Inspection.
This item is shipped fully assembled.
Your order will ship within 1-2 Weeks of order placement. If you need it even sooner, please let us know and we can try to accommodate.
Custom orders may require more production time dependent upon requests.
Item is shipped via UPS of FedEx (2-4 days in transit dependent upon your location.)